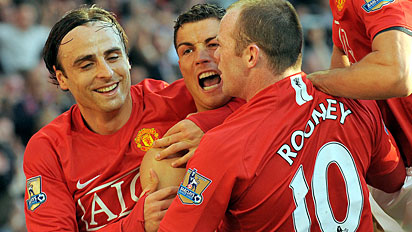 Manchester United produced another one of those thrilling, magical and devastating comebacks to haul themselves to a 5-2 victory over Tottenham and surely to an 18th league championship.
• Harry fumes at blunder ref
Liverpool will carry the fight forward to the bitter end. But how can United be denied if they can perform like this?
Two goals adrift at half-time and the worries of the world on their shoulders, Sir Alex Ferguson's men seized on a moment of good fortune provided by referee Howard Webb and simply ran amok.
Wayne Rooney scored twice and set up two others for Cristiano Ronaldo and Dimitar Berbatov, who literally left his former team-mates on their knees when he tapped home 11 minutes from time.
It cannot have gone unnoticed either the half-time introduction of Carlos Tevez was the catalyst for the onslaught, even if the popular Argentina forward did not get his name on the scoresheet.
But as they head south, bewildered at how what seemed certain to become their first Old Trafford win since 1989 should end so disastrously, Spurs - and Liverpool - will curse Webb for his crucial 57th-minute decision on which an entire season could be shaped.
Heurelho Gomes will argue forever he got a touch to the ball when he sent through Michael Carrick. Carrick will always know he got there first. The man who matters decided it was a foul. Ronaldo strode up and powered home the penalty. The rest was the stuff of legend.
Spurs' last Old Trafford matchwinner now analyses top-flight action in his role as presenter of Match of the Day.
And how much Gary Lineker would have loved the chances that fell the way of Bent and Modric in a four-minute period around the half hour which must have brought the widest of grins to Rafael Benitez's face as the Liverpool team coach made its way back across the M62 from Hull.
Anyone at Wembley last month to witness a goalless Carling Cup final between this pair that United eventually won on penalties could not have failed to notice Aaron Lennon's bewitching performance on the Spurs' right.
Indeed, Patrice Evra's subsequent dip in form was attributed in some quarters to the pounding he took from Lennon's direct runs.
Evra must have been experiencing an uneasy sense of deja-vu given the way Lennon chose to attack him again. The United defence appeared unnerved.
And when Lennon laid off a short pass to Vedran Corluka, the returning Rio Ferdinand failed to deal with the cross and Bent lashed home from six yards.
The goal must have had Lineker recalling his own halcyon days, as would Modric's similar effort on Tottenham's next attack.
This time Lennon provided the cross, to a far post station Rafael Da Silva had left unattended. Give players of Modric's class time to control and shoot and you are asking for trouble, which is exactly what United were in as the Croat's close-range shot bulged the net.
Tottenham's lead was not the backdrop Tevez would have imagined trying to make an impact from when he was once again named on the bench.
Still it offered the South American a heaven-sent opportunity, which would have been snaffled within minutes had he been able to take advantage when Ronaldo sent him through, rather than firing straight at Gomes.
It just proved to be the prelude for an awesome display of attacking power, United cutting loose once Ronaldo had given them hope from the spot.
Tevez did not score but he was the man who emerged from the maelstrom with the ball and set up Rooney, who cut in off the left flank and beat Gomes at his near post.
Within two minutes, United were in front, Rooney crossing expertly for Ronaldo, whose diving header was too powerful for Gomes to keep out.
By now Tottenham were dazzled and dazed by the power they were facing, the destination of the points no longer in doubt.
Another Rooney goal followed, Jonathan Woodgate unable to keep it out as he slid across the line trying to block a shot that would have gone in anyway.
A Gomes tangle with Jenas left Berbatov to scramble home number five against his old club.
After Liverpool's eight-goal thriller with Arsenal, it was another example of why the Premier League is the most entertaining in the world.
Liverpool got one point. United somehow managed three. That is probably the reason why the title will once again end up at Old Trafford.
Harry fumes at blunder ref
Tottenham manager Harry Redknapp accused referee Howard Webb of making a "terrible mistake'' that robbed his team of victory over Manchester United and made it increasingly likely the Premier League title will remain at Old Trafford.
"The referee made a terrible mistake,'' said Redknapp. "The players can't believe it because it changed the face of the game. United were not going to win unless something like that happened.''
Redknapp challenged Webb after the final whistle, although he got nothing better than the offer of an apology if the FA Cup final referee had got it wrong.
"You should have technology,'' he said. "The fourth official should be watching the TV monitor and talking to the referee. The guy has not done it on purpose, it is just a bad decision but it was the turning point.''
Even Sir Alex Ferguson admitted United had benefited from a large slice of luck.
However, given that United were dumped out of the FA Cup by Everton last weekend after being denied a spot-kick when Danny Welbeck was sent flying by Phil Jagielka, the Scot is making no apologies.
"We were a bit fortunate but football is a funny game,'' said Ferguson. "You get terrible decisions. We got one last week. You have to deal with them and get on with it. It was a fantastic performance from Berbatov. I don't think he gave the ball away once. He was our best player in the first-half and in the second he produced some wonderful moments.
"He does things that are world class. All he has done is miss a penalty kick. It was a bad one, I make no excuses about that. But how many players have done that? It is only a missed penalty. We have to move on.''
It did not go unnoticed that United's fightback began with the introduction of Carlos Tevez, whose energetic display lit up a previously ponderous Red Devils outfit.
And, having somehow emerged with three points from a game which seemed set to end in certain defeat to jump back above Liverpool, Redknapp can see no way United will throw away the title now.
"If we had beaten them today it would have been game on,'' said Redknapp. "But I can't see them slipping up now. Looking at their fixtures, I can't see where they are going to lose.''
Please discuss your views with other forumers.. [-/+] comments are welcome..
Did Man Utd really make a comeback or its a ladyluck like what people always say..
Or Fergie's hair dryer in the changing room, makes the players change their way of playing..