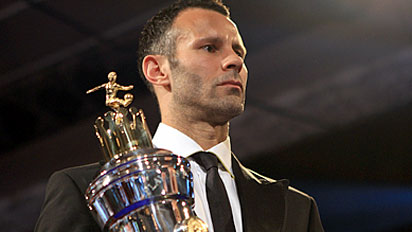 Manchester United midfielder Ryan Giggs hailed boss Sir Alex Ferguson after being named the Professional Footballers' Association Player of the Year for the first ever time.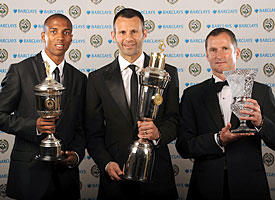 Ashley Young, Ryan Giggs and John McDermott were the winners on the night
Despite starting only 12 matches this season and scoring one goal, the award is seen as just reward for a glittering career which started 18 years ago against Everton at Old Trafford on March 2, 1991.
Since then the former Wales international's club honours include 10 Premier League titles, four FA Cups, three League Cups and two Champions League medals.
The 35-year-old, who will make his 800th appearance for United if he plays against Arsenal in the Champions League semi-final on Wednesday evening, was quick to praise the man who has guided him through his entire career at Old Trafford.
"The manager has been massive in my career from when I first met him when I was 13,'' Giggs said. "That's over 20 years and he knows me better than anyone and our relationship has been brilliant and just gets better.
"I've been so fortunate to have such a great career in so many great teams, it's not even worth thinking about what it would have been like without th manager.''
Giggs' contract expires at the end of the season but he is expected to be offered an additional year. However, the winger did suggest he will eventually move into coaching and has taken the first steps towards that and will be studying for his badges.
"As long as I'm getting picked, enjoying it and injury-free, I'll carry on as long as I can," he added. "At 35 you can't look too far into the distance, you just can't.''
Of the award, the player said: "It's right up there, with personal accolades it's the best to have as it's voted by your fellow players. I've been fortunate to win a lot of trophies, I won the young player award twice, but this is the big one."
Aston Villa winger Ashley Young picked up the Young Player of the Year award and believes it is a sign of the progress his club have made this season.
The PFA divisional team of the year has six United players and also included Chelsea striker Nicolas Anelka, who was in goalscoring form until the votes were cast but has not found the net since February. Portsmouth right-back Glen Johnson was also included.
Premier League team of the year
: Edwin Van der Sar, Glen Johnson, Rio Ferdinand, Nemanja Vidic, Patrice Evra, Ashley Young, Steven Gerrard, Ryan Giggs, Cristiano Ronaldo, Nicolas Anelka, Fernando Torres