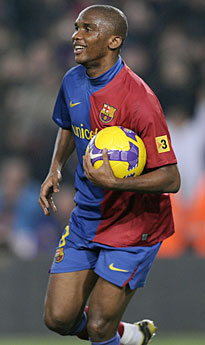 Eto'o: 32 goals so far this season
Manchester City have denied that talks took place on Monday with senior officials from Barcelona over a possible £40m British transfer record deal to bring star striker Samuel Eto'o to the Premier League.
Several UK newspapers reported that Barcelona president Joan Laporta met with Man City executive chairman Garry Cook in London ahead of Tuesday's Champions League semi-final, first leg against Chelsea.
The 28-year-old Cameroon international has been in exceptional form this season scoring 32 goals in 42 appearances for the Catalan giants, but has so far stalled on the offer of a new four-year contract.
With Eto'o about to begin the last year of his current deal a £40m fee would represent good business for Laporta and Barca's management team.
Since taking over Manchester City last August the Abu Dhabi United Group have been keen to add marquee names to the club's playing staff and have already broken the British transfer record once, splashing £32m on acquiring the services of Brazilian forward Robinho from Real Madrid and in January launched an audacious but ultimately unsuccessful £103m world record transfer bid for AC Milan player maker Kaká.
Last summer Tottenham Hotspur were linked with a move for Eto'o but baulked at his demand for weekly wages in excess of £100,000 a week. As City reportedly offered Kaká £500,000 a week, Eto'o's comparatively modest request would not be a deal-breaker.
Eto'o is expected to start Tuesday night's game against Chelsea as part of Barcelona's fearsome three-pronged attack alongside Lionel Messi and Thierry Henry.