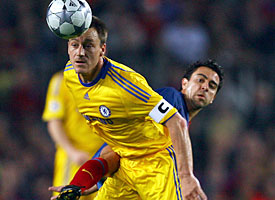 John Terry: "Inspirational" against Barca
Chelsea captain John Terry is refusing to get carried away after his side's impressive first leg 0-0 draw at the Camp Nou in Tuesday's Champions League semi-final, despite becoming the first side to prevent Barcelona from scoring all season.
Chelsea had been expected to fight fire with fire and match Barcelona's attacking game, but Guus Hiddink opted for a more defensive approach which resulted in a busy night for Terry and his defence.
Barcelona had 19 shots in comparison to Chelsea's three, but despite failing to score an away goal, some observers are now making the Blues favourites to reach their second successive Champions League final after an impressive backs-to-the wall display against the attacking prowess of Lionel Messi, Thierry Henry and Samuel Eto'o.
Those three players have scored 90 goals between them in all competitions this season but Chelsea's terrific defensive discipline kept them at bay, and in doing so Chelsea became the first team (since Manchester United at the same stage of last year's competition) to hold Barcelona at home.
Terry told ITV1: ''They had a lot of possession but we stayed very tight. We watched videos before the game; they like to play little balls through and we knew that and stopped them doing it.
''It's a fantastic result and we go back to the Bridge ready to go again. It's only half time. [The Camp Nou is] an intimidating place for players and referees to come. We'll have home advantage [next week] so hopefully we can make the most of that,'' added the central defender.
Terry's role in denying Barca was pivotal and he was singled out as ''inspirational'' by interim coach Hiddink, who also had praise for goalkeeper Petr Cech who put his recent indifferent form behind him and turned in a solid performance.
''John was inspiring, an example for the rest of the team,'' said Hiddink. ''You have to play courageously and play with a lot of intelligence against Barcelona, you cannot just play a tough game.
''This team has a lot of courage and a lot of blood, mentally it was great performance.
''Petr did a good job defensively, he intervened in one or two situations and he saved the game for us. If you look at the recent history of Barca, you will see it is a long time since they last failed to score in a home game.
''That's quite an achievement against a beautiful team who play beautiful football.''
Cech was full of praise for the men who shielded his goal, particularly Jose Bosingwa who was given the unenviable task of marking Messi out of the game.
''I think the biggest compliment should go to Jose because I think it was the second time in his life that he played at left back and it was against Messi,'' said the Czech Republic keeper. ''But you couldn't see Messi on the pitch today. John was also fantastic and I have to say so were all the other guys because it is not easy to come here and deal with all their attacking threat.
''But John was the leader of the back four and was brilliant. It is the first time we have got a clean sheet here but it is also the first time we haven't scored.
''The tie is still open but I think we can reproduce the same defensive work at home and we can always score goals at Stamford Bridge. Of course they have the best attack in the world, so it still stays 50-50.
''We just had to stay organised and everyone had to put in great effort for the individual and tactical work.
''As a team we had a great effort and we were rewarded with a clean sheet. But it was a pity that we had two good chances that could have been a goal. The goal would have been better but 0-0 is still a positive result.
''We wanted to stop them playing and then put them under pressure with our possession, which in the first half we didn't really do.''